I didn't vote for Trump. I didn't vote for him because I'm trying to raise two boys to love people without first regarding their skin color or gender or religion or education or the house they live in. Trump seems pretty categorically against that. Racism and sexism and economic division permeates every sector of our society. Hate runs like wildfire through the social circles that allow it.
But.
I have dear family and friends who voted for him. I love those people, they help make me who I am. They have their own convictions and beliefs and I wholly respect their right to have their own opinion.
By design, every vote in this country is selfish. You're gathering everything you know to be true and making a decision based on that. Sometimes you're looking out for your neighbors or the country as a whole, but that's still a self-choice. I think that's the beauty of a democracy, right? We are all vastly different individuals. We have different life experiences. Some of us (like me) are very white and very privileged and very middle class. The single momma struggling to raise two boys in Harlem and I don't have a bunch in common, except for the love of our boys. I want life to be better for her. Ultimately, I just have one vote, until I put my vote with her vote and we start to change things.
There's so much hate spreading right now. There's hateful winners who are obnoxiously gleeful their candidates won. There's hateful people on the losing side who are blaming.
I'm asking us to pause, and stop the hate. I'm not going to Canada. I hope you're not either. I live in the best nation in the world, and I've done nothing to earn that. I want better futures for all of us. I want kindness to rule the day. I want open minds and self-control. I want open hearts and ears that want to hear. I want to be called to action to change the things that bother me. I want to help the single momma in Lincoln who isn't quite sure where next week's dinners are going to come from. I want to help the black teen in Lincoln who feels like he can't walk down the street with a hoodie without fear. I want my kids' teachers to know they're loved with gratitude as they teach my boys about our world. I want to do all of those things regardless of who the single mom, the black teen, or the teacher voted for. They're human.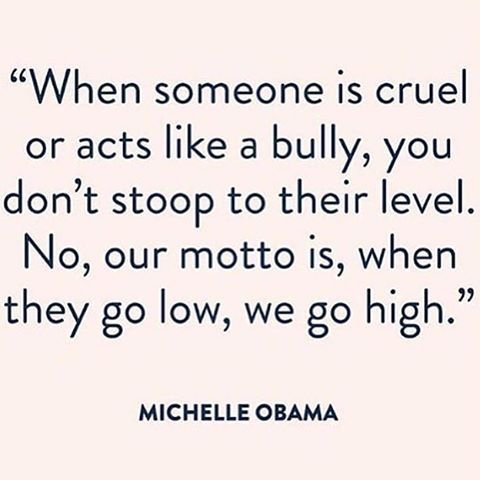 This morning on the way to school, I asked the boys if we could talk for a minute. This is what I told them: "guys, Donald Trump won the election last night. He's not our president today, President Obama will be our president for about two more months, until January. When you get to school, there's probably going to be kids who are happy and some who are sad. None of us can do anything to change the outcome of the election, but what you can do is love your friends. Love the ones who are sad and the ones who are happy. Be kind. Know that daddy and I will protect you and love you, no matter who sits in an office in Washington DC. Our hope is in Jesus, He knows what happens today and tomorrow, and we need to let Him handle it."
My best friend Jen Hatmaker had such a great post this morning. My favorite part was this: "No leader can stop us from loving, defending, representing, advocating, bridge building, and gathering." My hope isn't in Trump, it was never in Clinton, or Johnson, or Stein. My hope is in God. He's got this. This is how I still have joy on a day like today. He's given me free will to affect change as long as I have breath. I want to support those who are marginalized. I want to love my family and my friends and you, so well.
The great thing about growing up in a Lutheran church is that hymn lyrics flood my brain randomly, but when I need them the most. Today it's this:
My hope is built on nothing less
Than Jesus' blood and righteousness.
We're all buckling up for four years of a new regime. None of us know what to expect. I pray our president surrounds himself with excellent leaders who have the best interests of our country in mind. We're going to make it, you guys. We're going to thrive. But we need you – your kindness, your opinions, your smarts, your experiences, your love. Put those forward today.